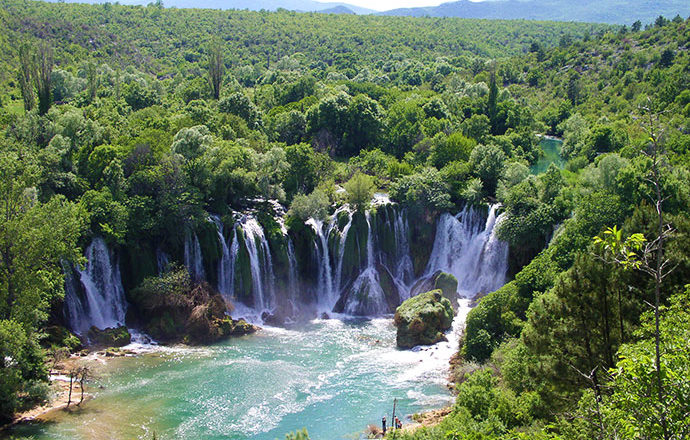 Us humans are drawn to the water, we flock to live by the coast, we are intrigued by the under water world, we fish animals to eat from the blue oceans and we enjoy many leisure activities in the water, including swimming.
Diving into a nice blue swimming pool is certainly enjoyable but there is something so beautiful about swimming in natural spots across the globe and there are some breath-taking places to head to for a natural swim. Check out these incredible natural swimming spots below.
Kravice Falls, Bosnia and Herzegovina
Situated in a nature preserve along the Trebizat River, Kravice Falls is one of Europe's hidden treasures and can still be found in a pretty much un-spoilt condition because of its location.
The best time to visit is in the spring time when the flora is at its greenest and the water levels are at their fullest due to the rainy season.
A group of huge waterfalls fall into a natural pool and are surrounded by trees giving the entire area a 'hidden paradise' kind of a feel. The waterfalls are 25 meters high and are so incredible that they are also called 'mini-Niagara falls'. As the falls plummet into the pool below steam rises off the water, it is a magical natural swimming spot.
Mooney Falls, Havasupai, Grand Canyon
Mooney Falls is one of five waterfalls located in Grand Canyon National Park along the length of the Havasu creek, and after a day's hiking in the park there is no better way to cool off than to jump into one of these natural swimming spots.
The gorgeous blue-green stream is named for the indigenous Havasupai people who live nearby in Supai, Arizona and who are intimately connected to the water and the land. When you enter their land, be respectful, you are entering their home and thousands make this trip each year so looking after this beautiful area is essential.
Gippsland Lakes, Australia
The Gippsland Lakes are Australia's largest system of inland waterways, separated from the sea by the Ninety Mile Beach. Aside from their incredible natural beauty the lakes also contain bioluminescent dinoflagellates which have arrived due to a combination of bushfires and flooding. Swimming in the lakes at night is truly magical since the water comes alive with twinkling lights.
While most people visit for the boating and fishing, you can certainly do some natural swimming and once you've tired yourself out head for one of the picturesque lakeside towns of Lakes Entrance, Metung and Paynesville.
Sacred Cenote, Chichen Itza, Mexico
Found slightly north of the famous ancient Mayan ruins of Chichen Itza, this incredible limestone sinkhole is a beautiful destination for natural swimming. It is also a fascinating historical site where Pre-Columbian Mayans would perform ritual sacrifices in days gone by and in the last century gold, jade, pottery and even human remains have been discovered in the debts of the sink hole.
Don't let this put you off though, this is a beautiful, peaceful place that is simply perfect for natural swimming.
Palea Kameni, Santorini, Greece
The gorgeous Aegean archipelago of beautiful Santorini is actually an ancient caldera formed after a volcanic eruption.
Geothermal bathing areas on the uninhabited islet of Palea Kameni are the place to head to for natural swimming.
The waters here are dark in colour and are also very warm which is wonderful for relaxing in and will help soothe away any aches and pains.
While it's a gorgeous experience, do bear in mind that the water is iron rich and these sulphurous waters can be a bit smelly, so you'll want to wash your swimmers after!
Dancing Ledge, England
Found on the beautiful Jurassic Coast in Dorset this is a beautiful natural swimming spot. The ammonite-encrusted ledge is home to a man-made pool that fills naturally with sea water at high tide – just deep enough to swim in but also shallow enough that the sun warms it to a bearable temperature to take a dip in.