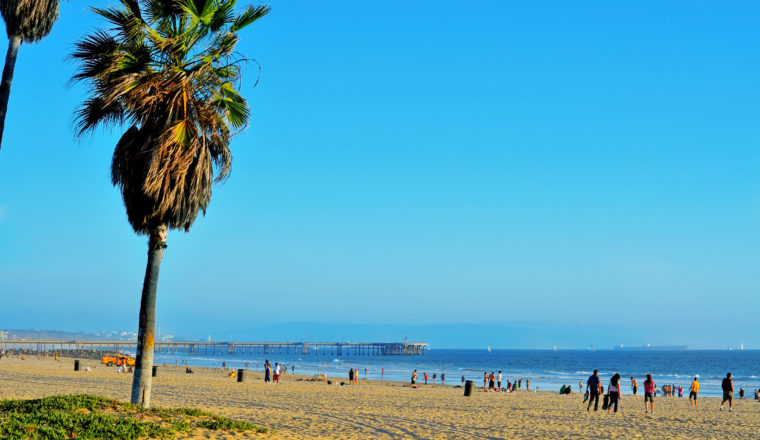 Southern California is home to some of the best beaches in the US and is known for its beautiful, sunny climate year round which means that every day is a beach day!
With a variety of iconic beaches to choose from ranging from family friendly spots, private hideaways and everything in between, you'll be spoilt by the choice of locations to wile away your day with the sand between your toes.
Depending on what your activity preference is some beaches are perfect for a spot of ocean swimming while others offer adrenaline fuelled water activities, so grab your beach bag and check out our favourite Southern California beaches right here. 
El Matador Beach
Located in stunning Malibu, El Matador Beach is an absolute treat. With its beautiful, natural rock formations and stunning views of the surrounding areas you will easily be able to see why.
Hunt for hidden coves that provide your own little bit of beach and get away from the crowds of people. 
There is a car-park here but do bare in mind the steps down to the beach if you are coming with small children or somebody in a wheelchair, this might not be the right option for you. 
Pack a picnic, grab yourself a secluded little spot on the beach and enjoy the Southern California sunshine! 
Santa Monica Beach
The famous Santa Monica Beach is located just 20 minutes from downtown Los Angeles and is one of the most popular beaches in Southern California. It is a fantastic place for surfing, volleyball, swimming, and of course people watching under the California sun. 
Santa Monica Pier has some nice attractions if you are visiting with the family including an aquarium and an amusement park and you can also rent out bikes if you are feeling active and take the 22 mile journey from Santa Monica Beach to Torrance County Beach.
The sunsets from Santa Monica beach are incredible so stay for the whole day and watch the sun drop down into the ocean.
Venice Beach
The famous and incredibly unique Venice Beach is definitely a must-see if you are visiting the Southern California beaches. 
This bustling part of the world come alive with urban street performers, barefoot sand sculptors, weightlifters and people from every walk of life, and the atmosphere is electric. The Ocean Front Walk is where most of the action happens and is a three quarter long concrete boardwalk with eateries, flea markets, and shops.
The skate park at Venice Beach also draws in many people as does the outdoor gym where you'll find muscle clad people working out in the sun. 
The beaches themselves offer golden sands and swimming opportunities. 
La Jolla Cove
La Jolla Cove in Southern California is one of our absolute favourite beaches and is definitely one of the most beautiful, surrounded by cliffs and with 30-foot visibility under the water, this beach is ideal for snorkelling, scuba diving and exploring the under-water world. 
Because La Jolla Cove is part of the Underwater Park Ecological Reserve you cannot do water-sports here such as surfing, so the pace is chilled out, relaxed and peaceful. 
The water at this point is quite cold and swimming too far off the beach isn't recommended for young or inexperienced swimmers but at low tide there are some beautiful tidal-pools to be discovered. 
There is a whole variety of marine life here at La Jolla Cove which includes rays, yellowtail, garibaldi and even leopard sharks have been spotted. 
Newport Beach, Orange County
If you are a surfer then this is the one for you! Home to 'The Wedge' – a spot on the east end of the Balboa Peninsula known for its large wedged-shaped swells, this part of Southern California has been attracting surfers for many years. 
Don't worry though if surfing isn't your thing there are some great restaurants and bars at Newport Beach too and the sand is just sublime for a chilled out day of sunbathing or playing with your kids.  
Crystal Cove State Park, Laguna
An excellent Southern California choice for the kids, this is a perfect spot for the little ones with mellow, calm water and beautiful golden sand for sand castle making.
Children like to bring their kites down to fly on the beach here and also watch fisherman make their daily catch. 
If you're feeling adventurous you can walk on the beach for a couple miles north and east and end up at one of the lovely restaurants or food shacks afterwards.