Fine swimming, blissful views and dramatic coastal paths are some of the incredible defining features of New Zealand's beaches. The country is home to more than 15,000 kilometres (9,300 miles) of coastline, making it the 9th longest coastline in the world. This means the choice of beaches that New Zealand has on offer is plentiful. Here we outline the very best!
1. Castlepoint
One of the greatest aspects of New Zealand beach life is that you never feel overcrowded. And that's very true of Castlepoint beach. Located just 50 minutes from Masterton within the Wairarapa, this beach is great for nature lovers. It's often visited by dolphins and fur seals, and you should also be on the lookout for sea birds; white-fronted terns, red-billed gulls and black shags. In addition to its traditional beach, Castlepoint is also home to a smaller bay for less confident swimmers, in addition to sand dunes and a lighthouse.
2. Awaroa, Tasman
If you're looking for picture-perfect golden sands and turquoise waters, look no further than Awaroa. Lying deep in the Abel Tasman National Park on New Zealand's South Island, the beach was put up for sale in 2016. Incredibly 39,000 New Zealander's took part in a crowd funding scheme and gifted the beach to the country's Department of Conservation, making sure it was kept open to the public for future generations.
3. New Chums Beach, Waikato
Another jaw-dropping New Zealand beach is New Chums in Waikato. An untouched gem located on the Coromandel Peninsula, there is no road access to the beach, making it an incredibly secluded and protected spot. The nearest settlement is Whangapoua, which is 30 minutes away. Bush-clad ranges form a beautiful backdrop to the golden sandy beach and rolling ocean waves.
4. Rarawa Beach
The white sand of Rarawa beach has to be seen to be believed. Located on New Zealand's Aupouri Peninsula, Rarawa is a true slice of far north New Zealand paradise. The beach plays host to the Northern New Zealand dotterel and variable oystercatcher birds during their breeding season. And Rarawa is a great fishing and kayaking destination too. Overall it is the perfect summer escape.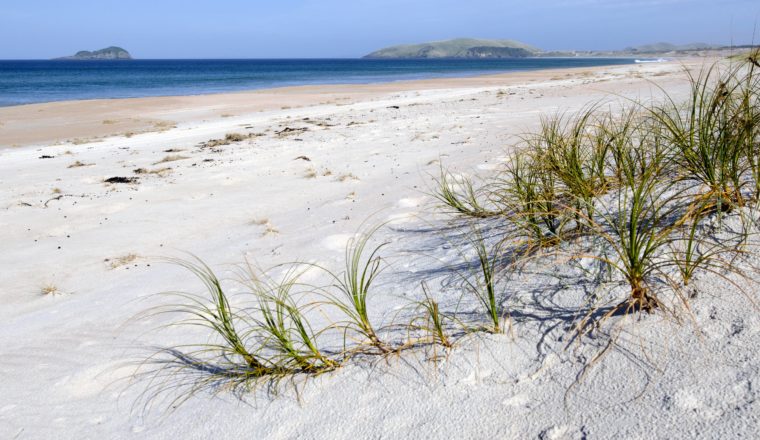 5. Ninety-mile Beach
Just below Cape Reinga on Northland's west coast, you can find New Zealand's Ninety Mile Beach. It's ironic that the ninety-mile beach is actually only 55 miles long, but its true length is the only aspect of this stunning location that could possibly disappoint. Clean, crystal clear waters, and golden sand give the beach an majestic other-worldly feel. Interestingly the beach is officially a highway, and suitable for 4 wheel drives to journey across. The beach is celebrated for its stunning sunsets and also its surfing potential. With 55 miles of pristine sand at your disposal, it'a also the perfect location to practice the unique sport of sand boarding, which is a very popular activity on the beach.
New Zealand is blessed with some of the finest beaches in the world. Whether you're seeking sugary soft sand and inviting water, or the opportunity for water sports or bird watching, New Zealand definitely has you covered.