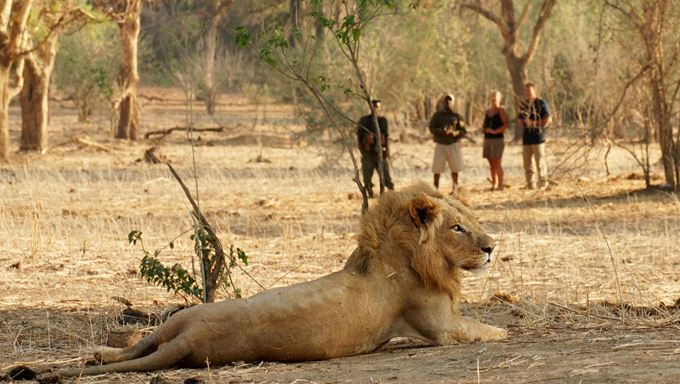 Africa is one of the most incredible continents on the planet with variety like no other. Covering 6% of Earth's total surface area and 20% of its land area and rich in cultural heritage and diversity it has a wealth of natural resources. Africa is breathtaking for tourists and holds some of the world's most incredible hiking routes.
Watching an African sunset has to top the list of things to do before you die and upon landing into Africa, whichever part, there is an incredible feeling, that sense of landing somewhere pretty special, hiking in Africa is an awe-inspiring experience.
So in which countries will you find the most amazing places to go hiking on the continent of Africa? Let's have a look.
Gorilla Treking, Uganda
Perhaps the most incredible thing to do when hiking in Africa and indeed its fair to say on all of the planet can only be found in Uganda and Rwanda, and that's the mountain gorilla trek.
The best times to visit Uganda to see the beautiful mountain gorillas is from June to September due to the very wet nature of the the national park, although you can certainly visit at any time of the year and gorilla permits tend to be cheaper during the low season.
8 gorilla permits are granted per day to protect the mountain gorillas and their natural habitat and you will pay a decent amount of money for this privilege, but it really is an incredible one.
It is definitely advisable to go with a guide, the guides are so experienced and know exactly what to look for when tracking the gorillas. The terrain can be extremely tough going and there is the chance of disturbing and upsetting the gorillas when you really don't know what you are doing.
There are approximately 786 Mountain Gorillas remaining in the world with around half of them staying in Bwindi Impenetrable Forest, so seeing one of these beautiful animals in the wild is something that will stay with you forever.
Mount Kilimanjaro, Tanzania
Although one of the best known routes to go hiking in Africa, this climb has to make it into our favourites because it really is an awesome journey and real challenge. Mount Kilimanjaro is the highest mountain in Africa and the tallest freestanding mountain on earth.
There are quite a few different routes that can be taken to climb the mountain of varying difficult levels, including the Marangu Routes, Machame Route, Umbwe Route, Shira Route, Lemosho Route, The Rongai Route and The Northern Circuit.
The Marangu Route is also known as the 'Coca Cola' route and is one of the most popular ways to reach the summit of Mount Kilimanjaro. Many hikers believe that the Marangu route is the easiest route to Uhuru peak since it is the quickest and cheapest route taking only 5 days. It is also the only route offering accommodation on the mountain, in A-frame huts.
Unfortunately though this doesn't make it the best route to pick since it has one of the lowest summit success rates of all the routes up mountain.
The Machame route is our favourite choice and has great success rates for reaching the summit. Hikers sleep in tents which are carried up the mountain by porters and the route usually takes 6/7 days. We'd always recommend doing it as slowly as possible which allows for more time to acclimatise, the key to successfully climbing this awe-inspiring mountain.
The Sahara, Morrocco
There are many walking routes in this most beautiful and famous of deserts and we would usually advise walking with a guide as conditions in the desert are very unfamiliar to most people and can become dangerous very quickly. Using a guide is not only safe but also means you learn so much more about the desert itself as local guides are incredibly knowledgeable.
One of our favourite routes for hiking in Africa in the Sahara takes around 7 days and explores the Moroccan Sahara desert in a beautiful circular route starting in Marrakech and passing though Ait Ben Haddou, Draa Valley and Zagora, Erg Chigaga Great Dunes, Foum Zguid, Taroudant and back to Marrakech.
You will cross the Atlas mountain range at its two most renowned high passes, each above 2000m, the Tichka and Test passes but be aware that in winter, particularly January, heavy snow can close the high passes or lead to big delays.
Weather conditions in the desert are prone to change quickly and are simply never predictable.
Walking Safari, Botswana
A walking safari is an experience like no other and if you are going hiking in Africa you must be sure to do this whilst on this magical continent. It demands that you tune into the bush; to its sounds and smells, the textures, temperature and colours, you are vigilant and on the look out all of the time, much like our ancestors were before modern society was in full swing.
The Okavango Delta in Botswana has been described as a 'sea of land, land of water' with Chiefs Island being the largest in the world's largest, incredible inland delta.
As well as walking you will be poled along waterways and backwaters in dug-out canoes and spend nights in trail camps set up as you go.
Botswana is arguably the best year-round game destination in Africa so your chances of seeing some of Africa's beautiful wildlife is high. The Delta is also one of its top birding destinations so if you love birds then you'll be in heaven.
Drakensberg Mountains, South Africa
The Drakensberg Mountains offer superb mountain scenery, green and lush in the summer months with spectacular waterfalls, woodland and crystal clear streams. There's a full range of walking trails from easy riverside walks to challenging mountain peaks so you'll find something for each and every walker which is what makes this a popular spot to go hiking in Africa.
The famous Amphitheatre, an 8 km stretch of cliff-like mountains some 1400 metres high is found in the northern Drakensberg and is an absolute must-see. The main peak is called Mont-aux-Sources because five of the country's major river systems have their source here. The mighty Tugela River cascades 850 metres over the edge of the Drakensberg forming the Tugela Falls.
There is so much natural beauty in this area that your senses will be overwhelmed.
Do bare in mind that The Drakensberg is in a summer rainfall region so the paths can get quite over-grown by the late summer. To avoid getting lost and putting yourself in danger it is advisable to only take guided walks at this time of the year.