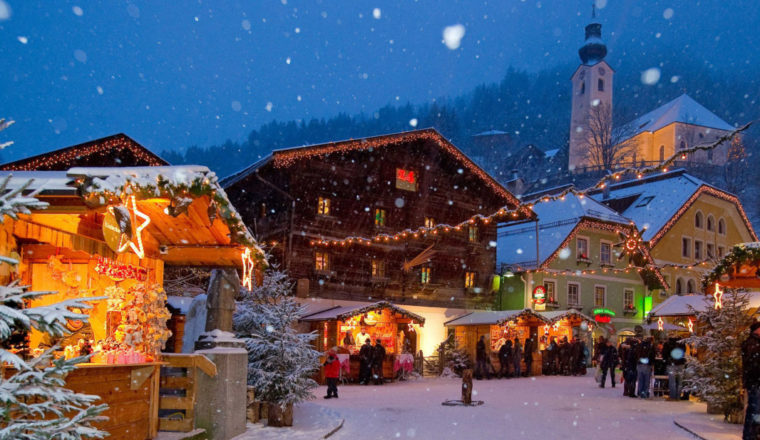 Once November sets in and we've done celebrating Halloween our thoughts almost certainly turn to Christmas.
Festive markets pop up, ice-rinks open, the streets fill with christmas lights and we get spending our hard earned cash on christmas presents.
Some years though we fancy getting away from it all and jetting off to pastures new to get us in the mood, so where on the planet are the most festive places to visit?
We've picked our favourite's below and think that you'll rather like them too.
1.Reykjavik, Iceland
Reykjavik is the capital of Iceland and is as festive as it is beautiful, offering a spectacular Yule Town Christmas and loads of holiday traditions including scruffy Santas, that bring gifts to kids who've been good for the 13 nights leading up to christmas day.
A highlight of christmas in Reykjavik and one of the reasons it is in our top 5 festive places on the planet, are the Yule Town Christmas markets which are filled with rows of small, picturesque huts where locals and visitors can pick up some great gifts, christmas decorations and treats.
Each day brings something different as some of the craft-makers and artisans set up their stalls just for one day so you can come back time and time again over the course of your trip and find new goodies.
Another top reason to travel to Reykjavik at christmas time is the promise of the  chance to see the magical northern lights flash across the night's above the city covered in snow and dazzling Christmas lights.
Seeing the northern lights, or aurora polaris, is on many of our bucket lists and this is one of the best places in the world to see them.
2.Valkenburg, Netherlands
The Valkenburg christmas markets are one of the largest subterranean Christmas markets in Europe, set up in a labyrinth of passages of caves that are underneath the town, they make for a truly magical experience and put this Netherlands town up there on our list of festive places to visit.
If you'd like to do a little Christmas shopping and pick up some one of a kind gifts such as traditional Polish handicrafts, Marlstone products and so much more, there is no better place than these markets.
The market opens in mid November and runs until just before Christmas with the entire town transformed into a glistening winter wonderland and children can go and visit father christmas and his reindeer in the caves too.
You'll also see a slice of history whilst christmas shopping because the cavern houses sculptures, an 18th-century chapel and mural drawings which date back to Roman times.
3.Rovaniemi, Lapland, Finland
When you start thinking of festive places to visit, surely one of the first that springs to mind is Lapland.
Located just north of the Arctic Circle, the people of Finland argue that it makes a much likelier home for Santa than ever the North Pole does and  what better place to meet the man himself than in a frozen winter wonderland of deep snow and pine forests.
Rovaniemi honestly sets the christmas scene more beautifully than anywhere else in the world.
Here, children can make cookies with Mrs. Claus and even enrol in Elf School, its a magical place.
Other highlights at christmas time include husky-dog rides, tobogganing in the deep snow, viewing the Northern Lights (yes you can see them here too!) or even taking a sled-led reindeer safari at the Sirmakko reindeer farm.
The Arctic Snow Hotel is a must see, constructed entirely of snow and ice, though it does come with hot tubs and saunas to offset the frozen temperatures, and believe me you need them!
There are so many activities geared up for the whole family to make your christmas holiday one that you will never, ever forget
4.Strasbourg, France
Strasbourg in France welcomes the christmas spirit with open arms and because of this is makes it into our list of favourite festive places.
You will find a series of themed Christmas villages that transform the city into a fantastic wonderland of shopping, eating and drinking.
The city's christmas programs are filled with concerts and all types of cultural events and you'll certainly be thrown into the christmas spirit here.
The sky is usually full of snowflakes at this time of the year and the smell of bredele biscuits and mulled wine is in the air. Decorations are hung in the windows, choirs are singing out on every street corner as you stroll through the alleyways at the foot of the Cathedral, Place du Marché aux Poissons, or Place Broglie and savour the christmas spirit.
5.North Pole, Alaska
Of course it wouldn't be right not to include the North Pole on our list of festive places to visit this christmas.
The North Pole may be the most obvious Christmas town of all, claiming it as father christmas' home, and they really do go to town here.
With a community of 2,200 residents, it's christmas all year round in the North Pole, the decorations stay up 365 days of the year, which can be a strange feeling in mid July, but at christmas, its exactly what you would want.
You can drive down streets like Kris Kringle Drive, Mistletoe Lane or Santa Clause Lane and even stay the night at Santaland RV Park.
In December, the North Pole really comes alive with its annual North Pole Christmas Ice Contest that attracts ice sculptors from across the globe and it is truly magical to see.
National newscasts are frequently broadcast live from the Santa Clause house as well and children will love delivering their christmas wishes to his door.
If the North Pole doesn't get you in the mood for christmas then nothing will.