Those of us that love to go walking are always searching for new and exciting destinations to wander on two feet and discover at our own pace. It's great hiking in familiar places that we know and love well but sometimes we want to branch out and go somewhere exciting that pushes our boundaries and comfort levels.
There are some incredible places on the planet to go walking and we look at four of the most unusual hiking destinations below.
1.Spotted Lake, British Columbia, Canada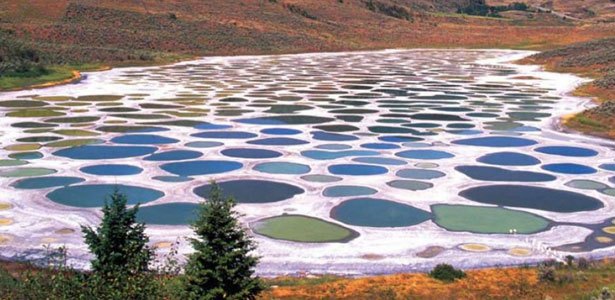 The spotted lake is a destination that is really unlike any other. Located in Osoyoos, British Columbia, Spotted Lake is a natural marvel unique to the world because of its spotted pattern which is caused when the lake's water evaporates in the summer, leaving colourful mineral deposits that settle around the lake and look like amazing spots. The colours of the spots also change throughout the summer with changes in the mineral composition, quite beautiful!
The Spotted Lake is known as Klikuk by the local Okanagan First Nations people and has long held a reputation for being a mystical lake with healing powers meaning that visitors aren't allowed to get into these waters.
If you are planning to visit the Spotted Lake then make sure that you go walking here during the summer when the water of the lake evaporates to reveal the magical spots otherwise you might not get to see them at all.
2.Badab-e Surt, Iran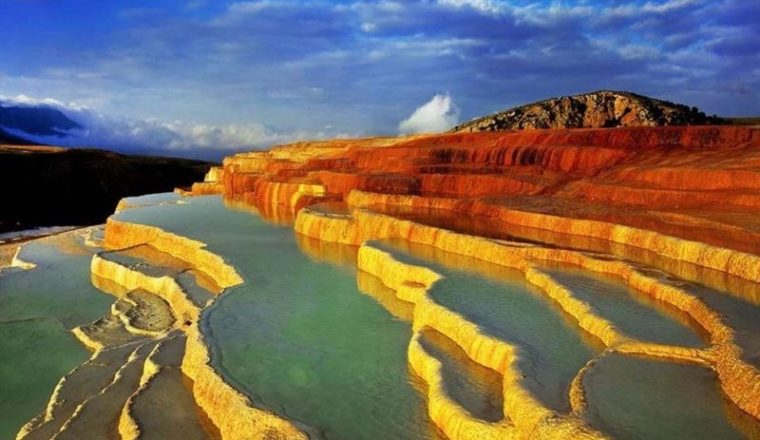 Iran itself is an ancient civilization with many historical sites, but at Badab-e Surt you'll find an abundance of beautiful hot spring pools.
A day trip from Tehran allows you to see the natural beauty of the geological rock formations that glow in the sunlight.
Located in the Mazandaran province, Badab-e Surt is unique due to its distinctive orange hue, resulting from a concentration of iron oxide and making the pools a very mysterious and intriguing colour.
This travertine terrace sits at 1840 meters above sea level and is the culmination of thousands of years of limestone deposited by water flowing from two mineral hot springs. These hot springs are thought to have medicinal properties on account of their high mineral content.
As water reaches the surface, carbon dioxide degasses and deposits mineral carbonate and because the heavier minerals settle at the top of the steps, the water become really clear as it flows down the steps reflecting the sky and showing off this staircase of mirrors that change colour with the sky.
To reach this beautiful site you'll need to travel about 370 km from Tehran, not the easiest route but absolutely worth the journey. Hiking in the area is very much acceptable but bathing is not an option as the local people wish to protect these beautiful pools.
3.The Tianzi mountains, China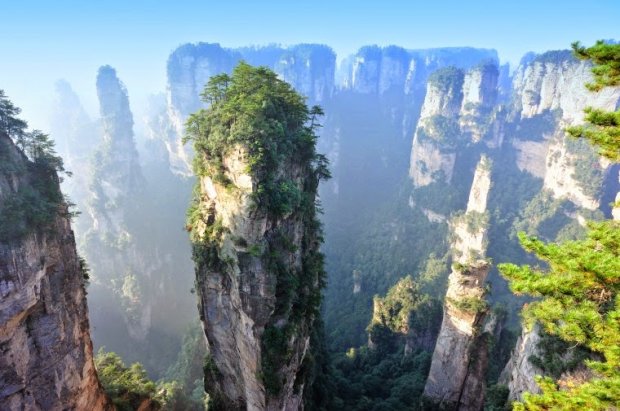 Often surrounded by mist, the tower like peaks of the Tianzi Mountain rise up from the tree covered ground below to create a landscape like no other you will have ever seen and this is an incredible place to go walking.
Located in the Wulinyuan Scenic Area of Zhangjiajie National Forest Park in the Hunan Province of China, these incredible mountain cover 21 square miles.
The Tianzi Mountain formed over millions of years of sedimentary rock erosion. These ancient peaks have been slowly carved out by water and wind leaving behind the towers we see now that look like a natural city of skyscrapers, some standing as tall as 4100km.
The erosion over time has created distinct, stratified layers that have developed different coloring and shape which just adds to the beauty of these spectacular mountains.
There are several ways to see the park, if you'd like to go to the top then jump on the cable car to the Tianzi Mountain area or use the Bailong elevator and there are free shuttle buses running in the peak seasons. You'll find lots of different walking opportunities in this area all with simply incredible views of the Tianzi Mountains.
There are places to eat along the way but keep in mind that during low season a lot of these will be closed, although low season is probably one of the best times to come because you'll avoid the crowds and be able to enjoy this beautiful place in solitude.
4.Socotra Island, Yemen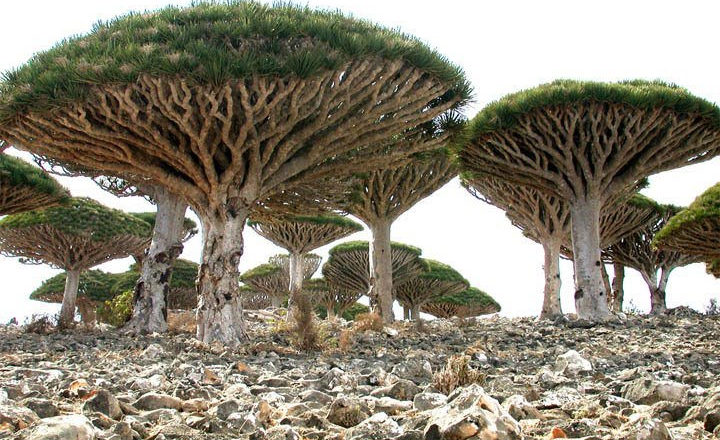 Socotra Island separated from mainland Africa more than six million years ago and today this remote island is unlike anywhere you will have ever been before.
Socotra's incredible and unique biodiversity means that there are plants and trees here that are not found anywhere else in the world.
Walk amongst the bizarre, ancient and twisted dragon's blood tree and the bulbous bottle tree.
Owing to the location of this island at the northwest part of the Indian Ocean, east of the entrance to the Red Sea, the Islands are inhabited by an exceptionally great variety of fish, corals and other invertebrates carried here by major ocean currents from nearby and far away seas.
Socotra is a  small island which  attracts people as a solitary place with rich landscapes not spoiled by world progress, meaning on average around 3000 tourists visit Socotra annually, a very low number compared to other parts of the world.
There are tour companies that can show you around Socotora or friendly local Socotran people who will love showing off their amazing island and my go walking with you.  These are cheerful and self-sufficient people with an optimistic attitude to life in spite of the severe living conditions on the island. They speak a unique classical Semitic preliterate language, Socotri.