We humans just love natural hot springs, we travel far and wide to visit and bathe in the most beautiful hot springs on the planet and are always a little in awe at their natural heat and other-worldliness.
There is something so satisfying about bathing in naturally heated water in some far flung country that we just had to investigate the most beautiful hot springs in the world.
Blue Lagoon, Iceland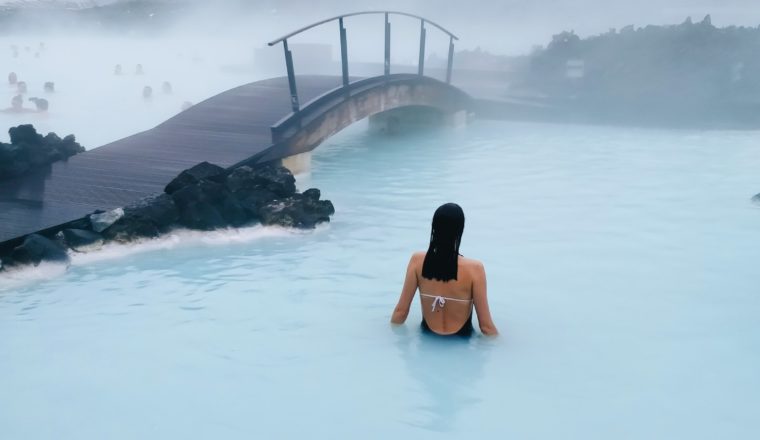 Probably the most famous of all hot springs is the Blue Lagoon in Iceland. This geothermal spa is located in southwestern Iceland in a lava field near Grindavik, a location favourable for geothermal power.
The water here is a milky blue colour due to its high silica content which forms soft white mud on the bottom of the lake. Visitors like to rub this white mud onto themselves as it is meant to be great for the skin.
Pamukkale, Turkey
Pamukkale is a city located in southwestern Turkey that is most famously known for its hot springs and travertines (terraces of carbonate materials that are typically a remnant of flowing water).
In the area there are 17 beautiful thermal springs which range in temperature from 35 degrees all the way up to 100 degrees so you obviously can't bathe in all of the pools.
Join the masses and take a dip in the sacred pool where you can swim amongst roman columns, pillars, and remains of buildings and sculptures. This is a truly incredible experience but don't expect to be alone.
The water in the pools contains high levels of minerals like calcium and was used as a place of rest and recovery in ancient times.
Arenal Hot Springs, Costa Rica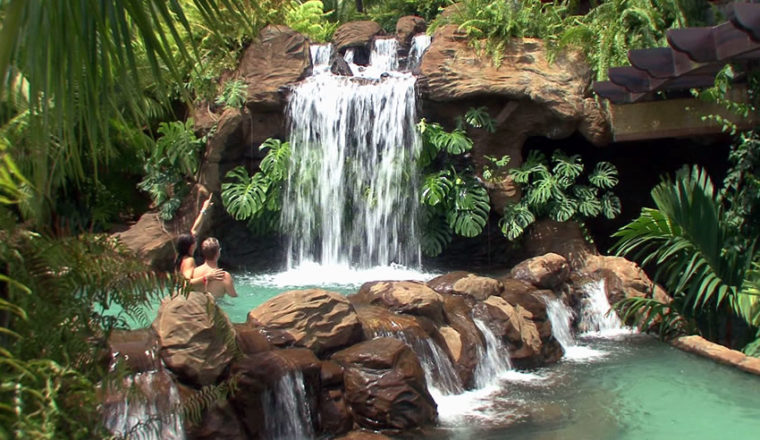 Costa Rica's Arenal Volcano is surrounded by beautiful, natural hot springs and although the volcano itself is now dormant after decades of regular eruptions, the geothermal hot springs remain as soothing as ever.
There are a wealth of hot springs in the area surrounding the volcano which originate in a geothermally heated underground river. Local hotels tap into this source and bring the water to the surface, creating mineral-rich hot springs for their guests to enjoy. You'll find a whole variety of hotels that you can visit, some even have swim up bars and water slides!
Cascate del Mulono, Italy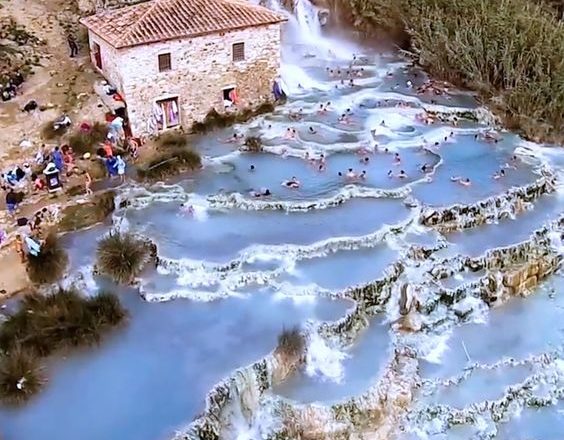 In the municipality of Manciano, just a few kilometres from the village of Saturnia you will find springs of sulphuric waters that have formed large ponds. The  main thermal waterfalls are the Cascate del Mulino located on the grounds of an old mill, and the Cascate del Gorello.
The large basin above the waterfall is just beautiful to spend time in, especially in the evenings as the sun is going down.
The beautiful 37 degree water in these magnificent hot springs comes from a source underground brimming with sulphur and other minerals which have been curing minor ailments since the time of the Romans.
Takaragawa Onsen, Japan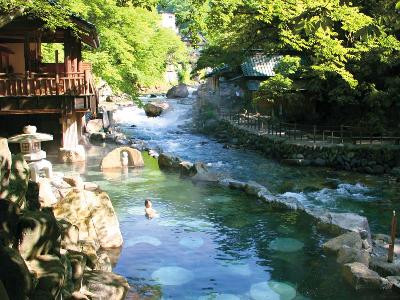 Onsen is one of the most popular tourist attractions in Japan with over 3000 Onsen spots in the whole country from north to south.
One of the most popular Onsen spots from Tokyo is Takaragawa Onsen Osenkaku which is located in Minakami Onsen area, Gunma Prefecture and offers an incredible open-air outdoor bath which is one of the largest in Japan.
The bath is located along the stream of Tone River surrounded by beautiful rich nature which displays a stunning scenery in each season.
The water from the baths is said to have some considerably special effects on the body and health such as helping Neuralgia, Muscle Pain, Arthritis, Coldness, and more.