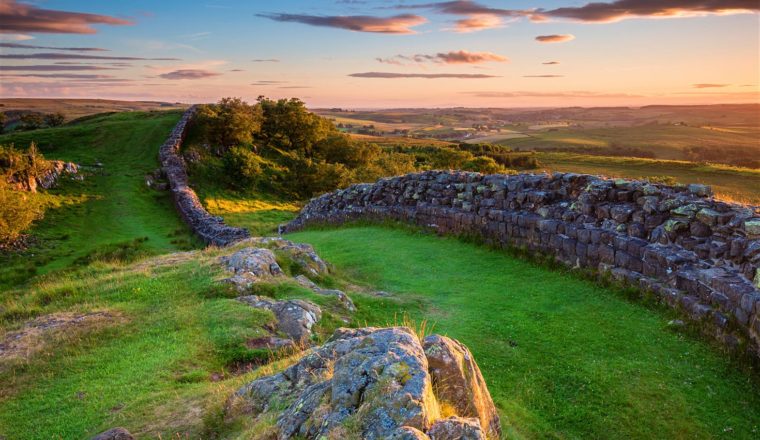 The UK has some truly incredible walking routes of all lengths and difficulty levels but today we are looking at our favourite long distance walks for those of you that love to challenge yourselves and have the time to embark upon a long distance challenge. 
1.Coast to Coast
The Coast to Coast hike crosses England from the Irish Sea to the North Sea exploring the national parks of the Lake District, Pennines and North Yorkshire Moors in the process.
192 miles in its entirely this is not a walk for the faint-hearted and is best walked in late spring or the early autumn.
The Coast to Coast is an amazingly varied route with no two days the same. There are fells, moorland, fields and mining history and it really does seem to cover everything you could ever possibly want in a long distance walk.
2.Hadrian's Wall Trail
This historical Roman walk is 83 miles in its entirety and is rich with history and is best walked between April and October to avoid the unpredictability of the Northern weather.
Along the way you won't just see the wall you will come across the remains of important Roman forts, museums, a huge variety of landscapes that range from the modern, busy city-scapes of Newcastle Upon Tyne to the sandstone hues of medieval Carlisle and from the barren heights in Northumberland to the lime green pastoral scenes of Eden Valley.
This long distance walk follows the line of Hadrian's Wall passing through some of the most beautiful parts of England and you don't have to do the trail in one go to enjoy the best it has to offer because there are lots of circular walks based on the trail for everyone to enjoy.
3.Rob Roy Way
Going up to beautiful Scotland you'll find the Rob Roy Way, a long distance walk that takes hikers through areas where the notorious cattleman & outlaw used to reside. This trail allows you to take in highland scenery, famous lochs and pretty Victorian villages.
The mountainous Scottish Highlands provide a wonderful backdrop along the entire route which certainly makes this one of Scotland's most beautiful long distance walks.
Paths and tracks are clear and well looked after for the most part but there are some sections which can become boggy and less distinct.  
Accommodation and places to have refreshments are strategically located from start to finish.
4.South Downs Way
The beautiful South Downs Way takes in the sunny south coast and is 100 miles in length. 
Stretching from the ancient cathedral city of Winchester in the west, through to the white chalky cliffs of the Seven Sisters and Beachy Head at Eastbourne in the east, this long distance walk offers inspiration and escape and can been enjoyed by one and all. 
5.Offa's Dyke Path
Heading over to Wales you'll find Offa's Dyke Path, a 177 mile hike that takes you through a patchworks of fields, over windswept ridges and into the old market towns. Add to that the historic castles and abbeys you'll find along the route and you'll have some idea of how incredible this hike is. 
Offa's Dyke Path takes hikers an average of 12 days in total to complete and passes through eight counties and two of Wales' Areas of Outstanding Natural Beauty (the Wye Valley and Clwydian Range). 
Offa's Dyke itself is Britain's longest ancient monument, an earthwork named after the Saxon King Offa, who ordered a defensive earthen barrier be built as a monument to his greatness and a discouragement to the Welsh Celtic tribes threatening his kingdom from the west.