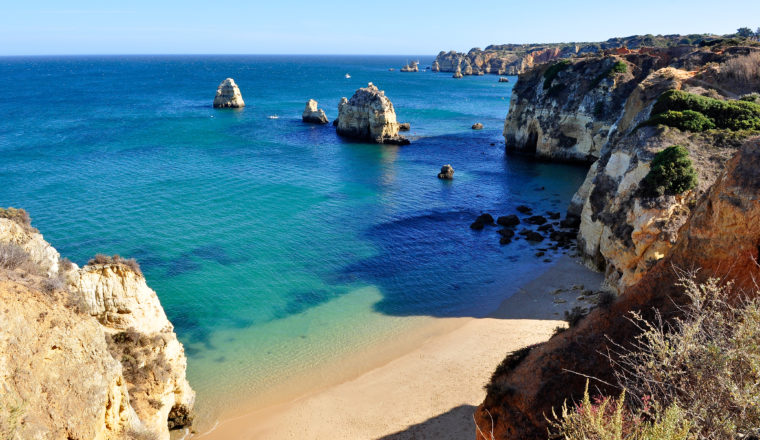 One of the best ways to really explore a country has got to be on foot and Portugal is no exception to the rule. Walking in Portugal will open your eyes to the wonder of the country and allow you to fully immerse yourself in the culture, scenery, range of landscapes and of course amazing cuisine that it has to offer. But where to visit and where to start?
Look no further as we have put together a guide to inspire you and show you some of the best places to visit and walk or hike through, whilst in this beautiful country.
Located on the edge of Europe, flanked by the vast Atlantic Ocean, Portugal boasts some of the most impressive and dramatic coastal landscapes in Europe. rich in magnificent scenery just waiting to be explored – it is possible to still find areas barely touched by tourists.
Algarve
Despite the Algarve being renowned for its beach holidays and tourists, do not be put off as long as you are willing to venture off the beaten track, there is a wealth of un-spoilt landscapes with green rolling hills, sparkling rivers, natural parks and sandy beaches waiting to be found. Walking in Portugal's Southernmost region will be sure to delight. Follow the 300km route via Algarviana, explore the unspoilt Eastern region or hike along the wild west coast between Sagres and Odeceixe. 
Madeira
Madeira, an independent region of Portugal, consists of four islands off the northwest coast of Africa. This compact island provides hikers with a fabulous mix of walking. Known for its subtropical climate and its namesake wine, the main island is volcanic and is distinctive by its high rugged cliffs and pebbly beaches. Several of the best walking routes centre around Pico Ruiva. At its highest peak you will be 1,800 meters above sea level, walking through Chestnut and Eucalyptus woods and inhaling the fragrant thyme growing along the route, to reach it. Some of the other highlights include trekking to the remote eastern tip at Ponta de Sao Lourenco or taking the breathtaking coastal path to the North. Stroll the Levadas lined with fragrant flowers, the irrigation canals that brought water to the driest areas of the island.
Parque Nacional de Penada-Geres 
When walking in Portugal, or indeed anywhere, it is a given that a national park would be right up there with places to explore. Situated in the north-west of Portugal, bordering Spain, The Parque Nacional de Penadas-Geres, is the country's only national park. Alongside hiking it is also a popular area for biking, kayaking and horse riding. In addition it is not a high profile destination amongst other Europeans and so still relatively unexplored except amongst the Portuguese. A wonderful place to explore on foot, to take in the spectacular scenery and nature.
The Portugal way
If you are looking for a mainly flat and not too testing route and are wishing to explore and experience one of the most popular Camino de Santiago trails then the Portugal Way may be what you are looking for. Choose to follow the stunning Atlantic and Galician coastline for breathtaking coastal views or the inland route through lush green and more rustic landscapes. Points of interest along the way include Ponte de Lima, the University of Coimbra and the beautiful Porto on the Doura River.
Azores
This remote archipelago of volcanic islands in the Atlantic Ocean is the perfect region to be explored on two feet. Lush and green but dotted with steep craters, it is the perfect destination for nature lovers and adventure sport lovers alike. The paths are flat and well-maintained but the land is peppered with areas of more rough terrain, when walking you are best able to fully explore the lava plateaux and volcanic lakes.
The Azores are most well known for whale and dolphin watching and many other species – including blue whales – pass through on migration sites.
Sintra-Cascais Natural park
This UNESCO World Heritage site is located 25km from Lisbon and is another must visit place if you are planning on going walking in Portugal. Dry stone walls partition the fields between charming, traditional villages and the wild coastline and Serra de Sintra Mountains provide impressive views whilst trekking one of the many miles of walking trails.
Due to its mild Atlantic climate the natural park is a wonderful area to walk all year round.