Walking The Pilgrims Way from Rochester to Canterbury – Kim Mears
I had been planning to walk The Pilgrim's Way for 17 years, ever since I lived in Surrey while working for the guitar legend Eric Clapton. I used to shop in Cranleigh and walk on a path that was part of The Pilgrim's Way, and something about it just stayed with me all those years. I made a mental note to myself that one day I would walk The Pilgrim's Way so when I started composing what I call My Bouquet List, The Pilgrim's Way was on the top of my list.
When my beloved partner, David, agreed to join me in England, the next step was to figure out how to do it. That's when I discovered World Walks Ltd, from a Google search of The Pilgrim's Way. From day one, World Walks helped me plan my trip and turn my fantasy of walking The Pilgrim's Way into reality.
We started in Rochester where we stayed at the most delightful B&B, The Cedar House, for two nights. The hosts were brilliant and the accommodations and the homemade goodies on offer for breakfast and afternoon tea were literally something to write home about, which I did to all my friends and family, complete with photos of the delicious food we ate there.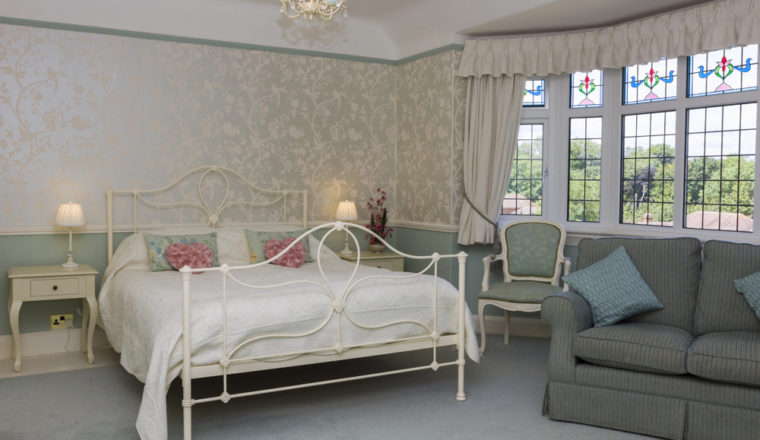 Image: cedarhouserochester
Day One of our walk began with the taxi collecting our luggage to take to our first destination, The Black Horse Inn. Our walk that day took us a full eight hours because there was so much to see and do and explore along the way. By the time we got to Detling, a bit short of our destination, I was more than ready for a break from walking, and lo and behold there was a pub called The Cock Horse right on our path. We stopped in for a pint and met a delightful group of locals who laughed at our tired faces, toasted our efforts, and pointed us for the final mile and a half to the Black Horse Inn. I've had plenty of Guinness in my day, but that pint was the tastiest ever and the most deserved by golly!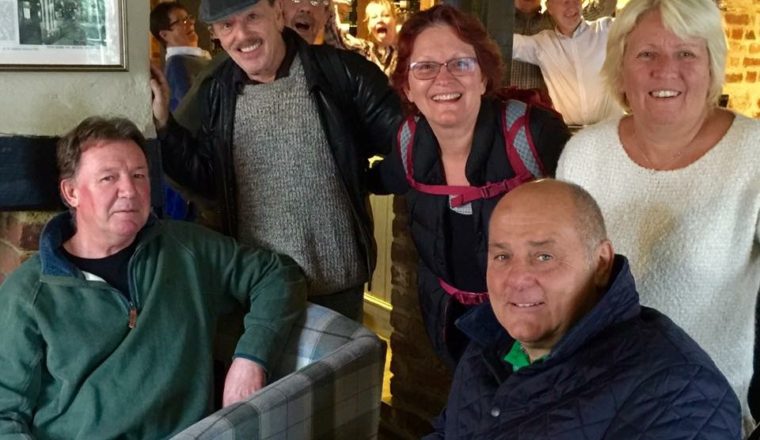 The Black Horse Inn was all the brochure promised and more. We had a scrumptious dinner and fell into our comfy bed for the night as I felt my feet and toes tingle from the day's long journey. Tired but inspired, I dreamt of the next day's trek and slept like a baby.
The next morning we ate brekkie in the pub and walked around Thurnham on our way to the train station because I honestly didn't think I could do another full day's walk. Besides, as one person said in Thurnham, There's No Shame In Taking The Train! My partner had never been on an English train, and it was a fantastic way to see the English countryside.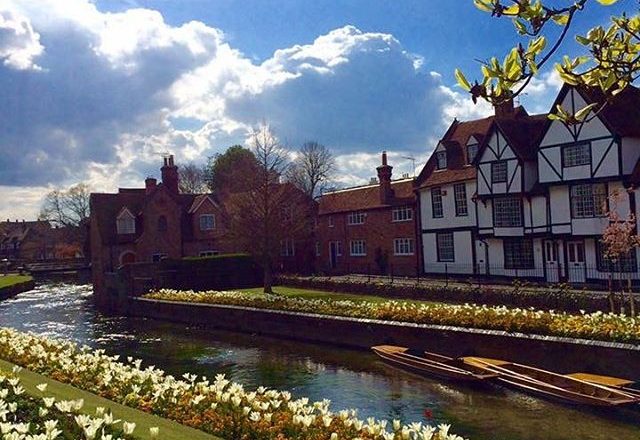 When we arrived in Wye, the next stop of our pilgrimage, we had the time, energy, and enthusiasm to explore the quaint little town. We got our pilgrim passports stamped, visited the church, and settled into our cozy and quite elegant room at the New Flying Horse Inn. Dinner was superb and the staff were friendly and welcoming. We drank Guinness and played cribbage in the pub until it closed, then fell into bed feeling rested and ready for Day Three, our final day of the journey.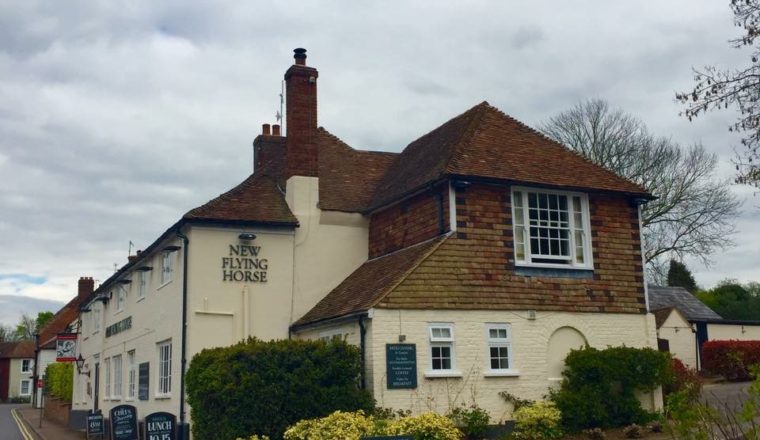 Waking up early feeling refreshed and rejuvenated, we packed our bags and left our room to have breakfast and meet the taxi driver who would carry our things to Canterbury that day. While enjoying the delicious food and drinking our coffee we decided that if we rode to Canterbury in the taxi instead of walking we'd have more time to enjoy Canterbury, so had a pleasant ride in the taxi and arrived in Canterbury in no time. After checking into our room at the Canterbury Cathedral Inn we began our day of sightseeing and walking around magical Canterbury.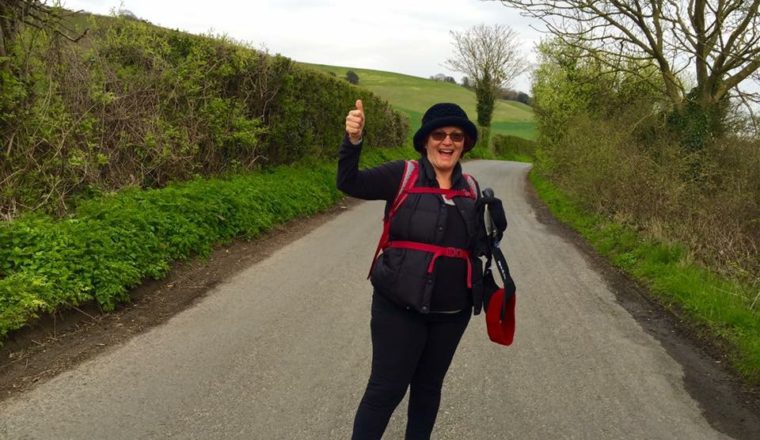 As a 58-year-old woman about thirty pounds overweight, I had to reconcile with myself that walking the entire way from Rochester to Canterbury was just not in the cards for me. I felt a twinge of disappointment in myself, but also a great deal of pride and accomplishment from having walked the long first day as planned, and also from knowing and acknowledging my limitations and listening to what my body was telling me about what was right for me.
We chose to be blessed as pilgrims by the priest at Canterbury Cathedral, and had to chuckle when he said, "Bless these Pilgrims who have come here by various means." It was the perfect ending to the perfect pilgrimage. Taking the train and taxi, along with our first day of walking, made the trip our own and allowed us more time to soak in what each destination had to offer.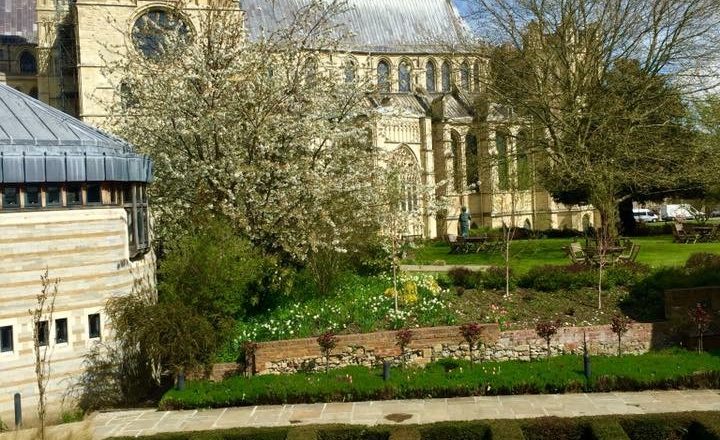 My next pilgrimage will be the Camino Santiago, which World Walks Ltd also offers and I will most definitely book through them. This time I'll walk even further, perhaps the whole way, as I've lost thirty pounds and have been walking nearly every day since our Rochester to Canterbury pilgrimage last Spring. Something shifted for me during that journey, and I feel blessed and rejuvenated as a result. I'm proud to be the winner of this year's photo contest, and thrilled that the folks at World Walks Ltd have gifted me with a 500-piece jigsaw puzzle of my winning photo, which was taken on our last day in Canterbury.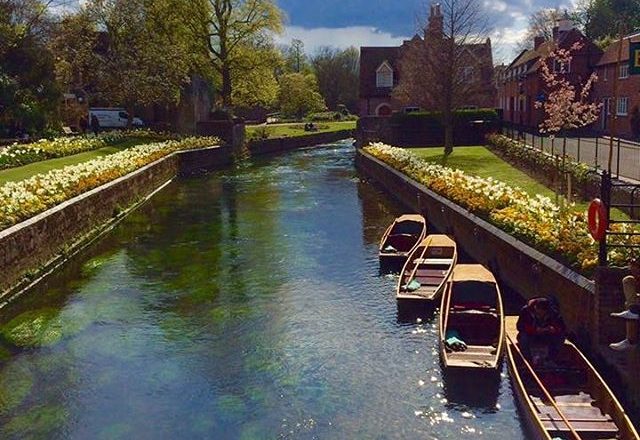 Finally, I'd like to say that if you ever get a chance to walk The Pilgrims Way remember that what's most important is not the destination but the journey and how you make it your own — not how many steps you take, but how the journey makes you feel and what you learn about yourself and others along the way. Whichever way you choose to get from point A to point B, as long as you stay true to yourself and your higher power, you will be on The Pilgrim's Way.