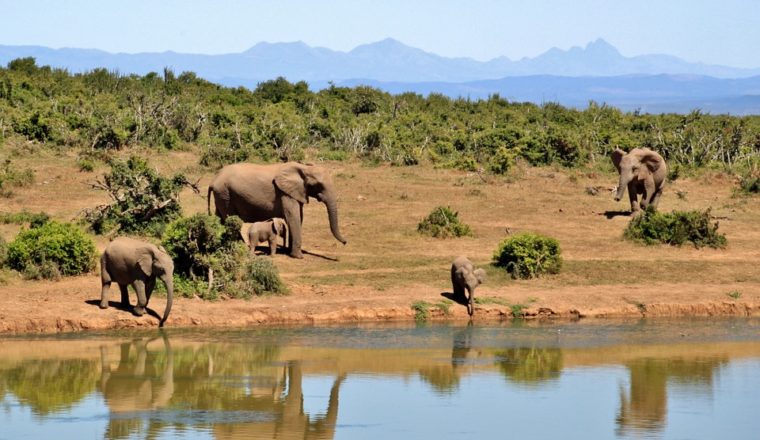 When you think of Africa you think of going back to nature, entering the wilderness and of course going on safari. Africa offers some of the very best safari opportunities on the whole planet.
An African safari is an experience like no other; hearing a lion roar for the first time in the wild and seeing all of the animals you've always dreamed about seeing in their own setting. Evenings are spent sitting around the campfire sharing stories from your day (of which you will have many!) under the African sky.
So where in Africa can you find the very best safari opportunities? Lets take a look.
Botswana
Chobe National Park in beautiful Botswana has one of the highest densities of wildlife in the whole of Africa, and is particularly renowned for its huge elephant herds.  
The Chobe River, Linyanti River and the Savuti Marsh are the main areas that safari will take you to in Botswana, each with its own unique ecosystem.
The renowned riverfront section of Chobe can get relatively crowded but this is because it is undoubtedly game rich making it a very popular destination. The Chobe flows deep and wide throughout the year to provide an invaluable water source which simply draws the animals to it.
Namibia
Namibia is an incredible country, with its enormous Etosha Pan – a salt-crusted, dry lake bed that dominates the park, it is home to an absolute abundance of animal species including lions, elephants, rhinos and giraffes.
These are only a few waterholes for the animals to re-hydrate which means it is pretty likely you are going to have a very special  game-viewing experience.
As well as the abundance of beautiful wildlife you can also expect to see superb scenery with prominent features including the worlds highest sand dunes, rugged rock formations and canyons, as well as the Atlantic coastline off which many shipwrecks lie.
Zimbabwe
In the heart of southern Africa, land-locked Zimbabwe is a vibrant country with dramatic landscapes, impressive national parks and welcoming people. With a terrible history, this beautiful part of Africa is now up and running as one of the top Afrian safari destinations.
Zimbabwe's largest reserve protects over 100 mammal species and 400 birds and the rare African wild dog is often spotted in these parts, along with tens of thousands of elephants.
Hwange has pans all over which attracts wildlife, and the incredible scenery ranges from Kalahari scrub to forest and grasslands.
If you take a short-ish drive (a couple of hours) you can also visit the stunning Victoria Falls.
South Africa
South Africa's Kruger National Park is probably the most famous safari destination in the whole of Africa and attracts a lot of visitors. This huge park encompasses a vast array of habitats, over 500 species of birds, and more mammals than any other African game reserve.
There are so many options  for safari in South Africa, ranging from incredible (and expensive!)  luxury lodges to campsites and self-drive safari's meaning that the door is open to most people.
South Africa caters very well for families and offers some of the best family friendly African safari holidays. Scattered across the country are family-friendly hotels and adventure activities to keep the whole family happy.
Kenya
The Maasai Mara national reserve in Kenya is synonymous with both African safari and the incredible Maasai people.
If you are desperate to witness the great African migration then the Mara is definitely the spot to do this,  seeing up to two million wilder-beast and zebras spilling into it from June through to October through the precarious Mara River crossing.
The added bonus of a safari in Kenya is the Kenyan Coast and the the absolutely stunning white beaches and ever-inviting Indian Ocean lapping at the shores. A safari followed by a break at the beach is just the best combination going.
Tanzania
The Ngorongoro Crater is a breathtakingly beautiful African spot and the best place in Tanzania to see the Big Five.  
This is a giant, 25km wide bowl that is teaming with around 30,000 animals including huge bull elephants, leopard and black rhino.
Classed as a UNESCO Site it can get a little crowded at times simply because of the incredible opportunities to see the wildlife.
The craters Olduvai Gorge is also home to some of the worlds oldest human remains – including a 1.75 million year old skull – which has shaped our understanding of evolution and offers an incredible history lesson.
Head from Tanzania to Zanzibar for the perfect combination of safari and beach, what more could you ask for?