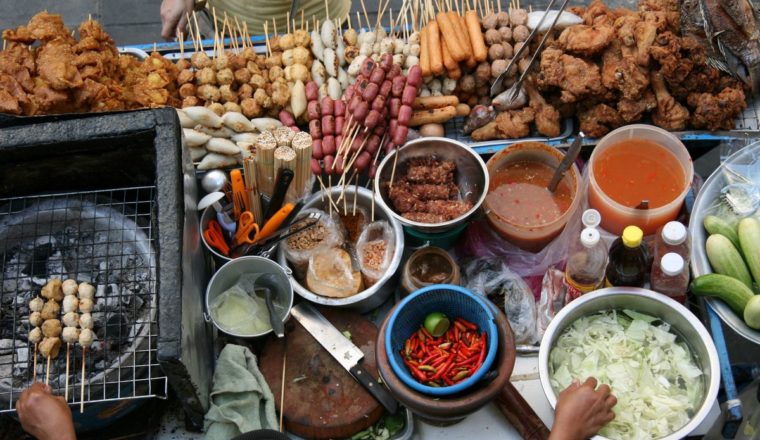 We all have our different reasons for packing up a bag and jetting off around the world. Some people love to experience cultures that are different to their own, some people want to see different scenery and other people go for the food!
If you are a food lover then you'll understand fully where we are coming from, tasting cuisines from different parts of the world excites us and gets our mouth watering and our tongue tingling.
If you share our love for all things eating, then you simply MUST read this latest blog which talks about our 4 favourite cities to visit if you are a food lover.
Prague, Czech Republic
Prague is not only a city of culture and charm,  it is the perfect place for the food lover to taste unique and delicious dishes that hold flavours of German and Hungarian cuisine.
Locals love cooking the Svickova which is a traditional meat-based food that is so well establish in the local cuisine that it is present in almost any Sunday family lunch.
If you are looking for a unique food to try in Prague this is definitely a must-have. Svickova when translated is sirloin beef in a cream sauce, traditionally served with bread dumplings, gravy and cranberry sauce.
When in Prague one must try Kofola – a local version of Coca-cola or Pepsi which was designed when the people of Prague couldn't get these popular drinks. Although now you can find Coca-cola and Pepsi everywhere in Prague, the herbal drink remains the the favourite soft drinks of the most nostalgic of locals.
Another drink you must consume is the beer! Czechs certainly know what they are doing in this department.
The typical beer is the pale lager and the most popular being Pilsner Urquell.
For a gorgeous fresh beer look for the Pivovars breweries where the beer is brewed directly on site.
For a quick lunch bite in the city, try the local version of the hot dog: Parek v rohliku. This is a Czech style hot dog and is essentially a  roll filled with a boiled sausage, mustard and ketchup.
Paris, France
From food with refined flavors and delicate textures that  delight your palate to popular but surprisingly delicious bistros, Paris really does have it all and if you are a food lover, you will be in heaven here.
During the colder months there is nothing better than a Soupe a L'Oignon, a rich beef-based broth full of onions cooked until they're soft and sweet, covered with cheese and baked in the oven. Its hearty, filling and totally delicious.
Another great dish to sample is the Steak tartare, made from finely chopped or minced raw beef or horse­meat and often served with onions, capers and seasonings.
One thing you'll notice as you wander round the streets of Paris are the crepe stalls. Crepes are really yummy, ultra-thin pancakes filled with just about anything you could imagine from chocolate to cheese, sweet and savoury.
Another sweet treat to sample is the macaron, a light cookie made with egg whites in a sandwich with a cream filling. They are little, light and absolutely delicious.
Vienna, Austria
When doing the cultural thing in Vienna (there really are a lot of places of cultural interest in this beautiful city) you must visit the traditional coffee houses, rustic wine bars and worldwide renowned culinary eateries.
Meat is very popular in Vienna (so do bear this in mind if you are vegetarian), and the traditional meat dish is the Tafelspitz
Tafelspitz is very lean and contains only a thin layer of fat in the upper part and the dish consists of boiled veal or beef with cut vegetables and onions.  It is usually served with a slash of its broth and garnished with an apple-horseradish sauce.
When its dessert time you should definitely try the fried plum dumplings that belong to the typical Austrian tradition.
The zwetschgenknodel, meaning 'Plum dumblings' is a warm dessert that consists of a fresh plum rolled in dough and boiled in hot water. They are usually served with melted butter and a mix of sugar and cinnamon.
Bangkok, Thailand
Although there are a whole host of restaurants to suit everybody's taste and budget in Bangkok, the most popular and fun way to dine is to hit the streets and grab some street food.
Street food in Bangkok provides convenient, delicious and cheap meals and it's one of the purest ways to get in touch with the local culture but can be a little intimidating for foreigners new to the city.
There are so many different streetfood stalls offering all manor of foods which you may not even recognise, it can be off-putting for even the most daring food lover.
Some street vendors operate in groups, especially in local markets, which means you can go to the same place every night and have a different choice of meal. Some even open around the clock.
Some of the most popular dishes include; Som Tam (Papaya Salad), Khao Pad (fried rice), Khao Mun Gai (steamed chiken on rice) and Gai/Moo Bing (grilled chicken/pork skewers.
You'll also find noodle stalls all over the place offering an array of different noodles that are nearly always delicious.
Another favourite in Bangkok (and indeed all over Thailand) are the pancakes – just like the pancakes you are likely used to, often filled with Nutella and banana, these make for a delicious, on-the-go desert for the food lover with a sweet tooth.