A single base guided walking holiday, on the northern coast of a quiet and beautiful corner of Crete. You stay in apartments just a few metres from a beach embraced by two majestic peninsulas. Each morning you walk directly from the village along the coast or into the olive-clad hills in the company of your guide, Iacovos, who knows the area intimately. Discover unfrequented villages, cave churches, gorges and abandoned Minoan settlements. In the afternoon, more walking; relaxing in the clear Aegean; or painting classes with Camille.
Five mornings of leisurely to medium paced walks taking in the hills, valleys coastline and town of Kissamos and the surrounding areas, to include local villages and ancient sites, all especially beautiful in Spring and Autumn with wild flowers. Each walk starts at 9:00 am at the hotel and ends by approximately 2 pm. Each walk has regular rest stops.
Painting workshops for beginners and more advanced artists are available, painting with the medium of your choice (for example oils or water colours).
One free day, which is an opportunity to relax or alternatively explore the charming old city of Chania built around its picturesque harbor or the famous Balos beach at the top of the Grambousa Peninsula by a short boat trip from Kissamos port. For other options we will be at your disposal. The opportunity to eat together at local tavernas: time to share in conversation, stories and delicious local food.
There is the freedom to opt out from either the walks (one or more or all) or the meals.
Price:
Per person based on 2 people sharing: £870
Single supplement: £130
Included:
Transfers to/from Chania Airport
7 nights in comfortable apartment with kitchen and free WiFi
Breakfast each morning
Dinner on the evening of arrival
5 guided walks
Not Included:
Flights
Dinners (apart from first night)
Drinks
Insurance
Anything else not mentioned as included
Departure Dates:
From Sunday  28.04.2019  to Sunday 05.05.2019 (Sunny Bay Hotel)
From Sunday  05.05.2019  to Sunday 12.05.2019 (Cormoranos Apartments)
From Sunday  12.05.2019  to Sunday 19.05.2019      – Fully booked –
From Sunday  26.05.2019  to Sunday 02.06.2019 (Cormoranos Apartments)
From Sunday  22.09.2019  to Sunday 29.09.2019 (Cormoranos Apartments)
From Sunday  29.09.2019  to Sunday 06.10.2019 (Cormoranos Apartments)
From Sunday  13.10.2019  to Sunday 20.10.2019 (Cormoranos Apartments)
From Sunday  20.10.2019  to Sunday 27.10.2019 (Cormoranos Apartments)
Day 1: Arrive Chania Airport
You will be met and transferred to your village accommodation – approximately 40 minutes drive. Welcome dinner.
Day 2 – Platanaki – Korfalonas – Kissamos

Day 3 – Drapanias – Cherethiana – Potamida – Kaloudiana

Day 4 – Kolymbari – Astratigos – Afrata
Day 5 – Free day
A free day to rest or do further walking or sightseeing on your own. You could enjoy the many attractions of Chania, or visit the famous Balos beach by a short boat trip or hire a car to explore further a-field.
Day 6 – Koleni – Mesonisi – Rokka – Kotsiana

Day 7 – Nopigia – Panagia Myrtidiotisa – Agios Vasilios – Ravdouhas

Day 8 – Departure

Transfer to Chania airport.
Accommodation
Accommodation is in a family owned complex of apartments (all the same size) in a very small unspoilt village a couple of minutes walk from the beach.  Apartments are  spacious, very well furnished,  with good cooking facilities and all the utensils you could possibly need. There are two outside areas for each apartment and both areas have table and chairs for outside dining. The garden is lovely with a good sized pool that is deep enough for a good swim if you decide an early morning dip.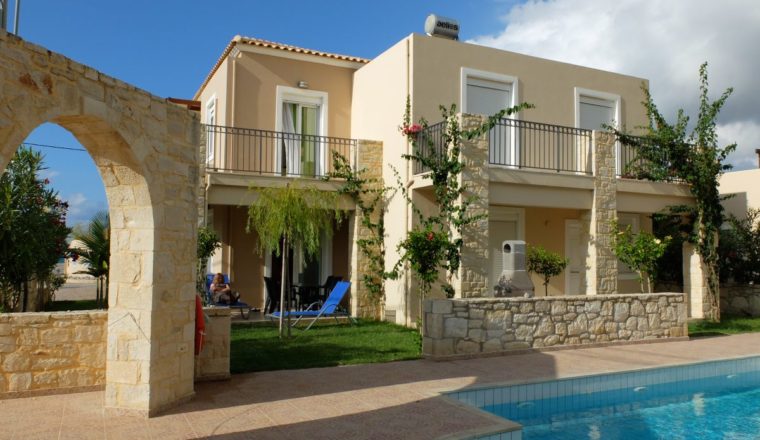 Getting there
Chania is the nearest airport – you will be collected from the airport on arrival and taken back to catch your flight at the end of the holiday.